Machine Features: Capping
Filler Specialties designs and manufactures rotary filling and capping machine turrets for a variety of screw, press-on, snap/screw, flat, sport, and foil caps.  These turrets include mechanical pick and place (cap-in-head) cappers, FH-917 cappers, and conventional screw cappers. Models range from entry-level three head to 30 head units and achieve speeds up to 700 containers per minute. Container neck support systems and specialty closures are available. Stand-alone, monobloc, or tri-bloc/dual capper configurations are offered to meet your project requirements.
Mechanically driven pick and place (cap in head) cappers
Unlike standard rotary screw capping turrets with conventional random apply cap pick-offs, pick and place cappers offer improved container and cap control which results in improved capping efficiencies, especially with difficult container/cap combinations. Once sorted, caps are delivered to the pick and place capper where a rotary indexing star-wheel precisely positions caps below stainless steel capping heads. Controlled from and overhead cam assembly and variable speed spindles, the capping heads travel down and engage the caps still captured in the indexing star-wheel. Bottles are transferred to the capper via transfer star-wheel, and are precisely positioned below the capping heads where they are properly aligned, and fully controlled. The capping heads, with caps engaged, come down to apply and torque the closures to specified torque requirements. 
Lube free spindles
Variable speed spindles/heads standard
Efficient capping at high speeds even with difficult cap/container configurations
Articulating and non-articulating gripper heads
Container neck support with quick change hardware available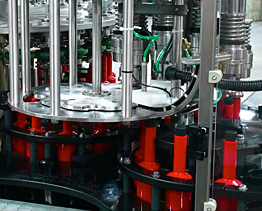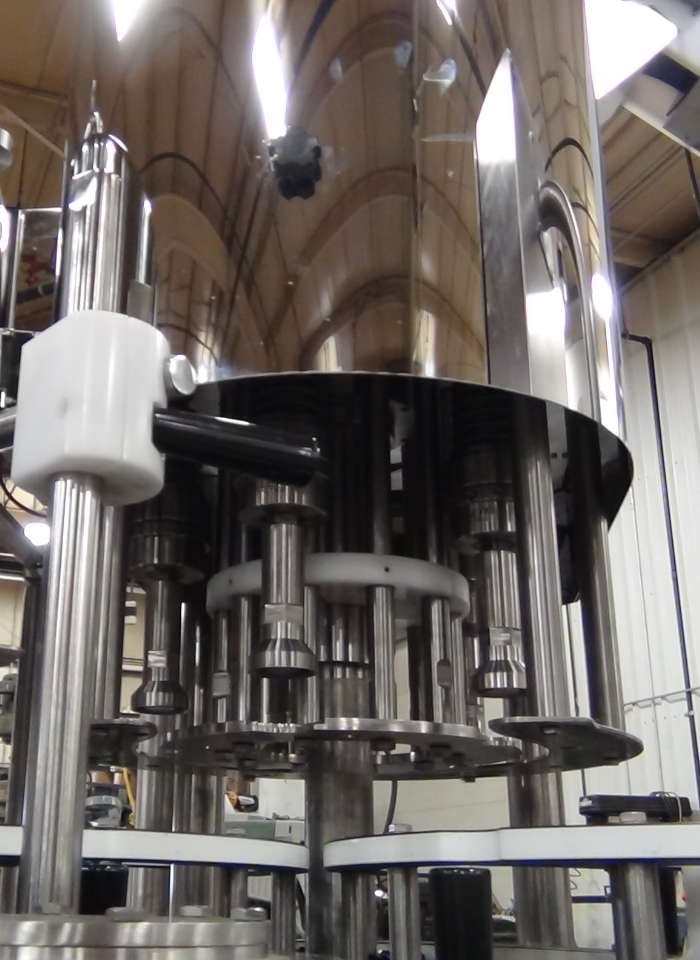 The ever-evolving 900 series capper from Filler Specialties is a lower cost option to the pick and place capper, with many of the same features. We handle containers with care through the transfer star-wheel, where the container will pick off a cap from the custom manufactured cap chute. The bottle continues to travel into the capper as it remains on the same plane throughout the torquing process for best container handling. The capping head will then come down to the container and apply the closure that is already present. We build the 900 series cappers with the same lube-free spindle design as the pick and place capper which is specifically designed to separate linear and radial loads, maximizing the life of wear components.
Lube free spindles
Variable speed spindles are optional
Versatility to run flat screw caps, sport caps, press-on caps, or snap/screw caps
Containers remain on same plane; capping heads cam down to engage with caps for efficient application
Stainless steel magnetic heads are torque adjustable
Container neck support with quick change hardware available
Stainless steel gripper heads with tool-less quick change design
Conventional screw cappers
Lube free spindles
Versatility to run screw caps, snap caps, and snap/screw caps
Capping heads remain on same plane; containers cam up to engage caps with gripper heads
Stainless steel magnetic heads are torque adjustable
Stainless steel gripper heads feature tool-less quick change design