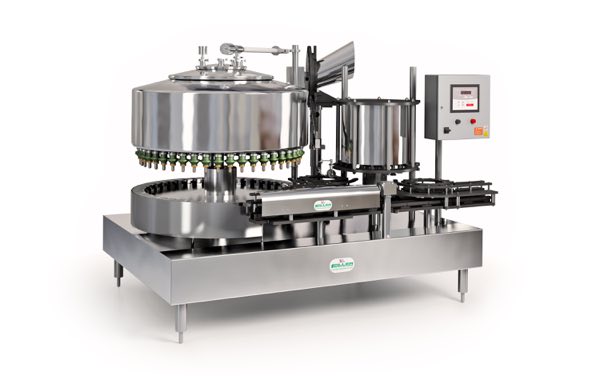 Since 1973, Filler Specialties has been involved with the design, manufacture, and remanufacture of monobloc filler/cappers worldwide. With a multitude of distinct machine series, Filler Specialties has the monobloc pressure gravity filling and capping machine that's best for your application.
Speeds from 10 to 700 containers per minute
Plastic and glass containers from 2 oz/60 ml to 2½ gallon/10 liter
EMV external mount filling valves; standard
ESL Clean-In-Place filling valves and related hardware; optional
Rotary cappers for screw caps, snap/screw caps, press-on caps, sport caps, and specialty closures
Full line of capping turrets including pick and place (cap in head) cappers
Container neck handling systems for lightweight containers and hot fill applications
Machine safety and ultra-clean, controlled environment enclosures
Customized systems to meet your special project requirements
Filler Specialties currently offers seven frame sizes, all customizable for accepting small or large container sizes, to meet most any speed requirement. Models range from a low volume 6 valve to high speed 72 valve fillers. Stand alone or monobloc filler/capper versions are available. All feature perfect timing ratios to ensure optimum bottle handling and control. These include 2:1, 3:1, and 4:1 ratios to best match your specific application. All are gear driven for dependability, and long life.
Contact our sales staff to determine which model, and configuration is best suited for your project. We have an extensive and ever-growing database to help start the conversation.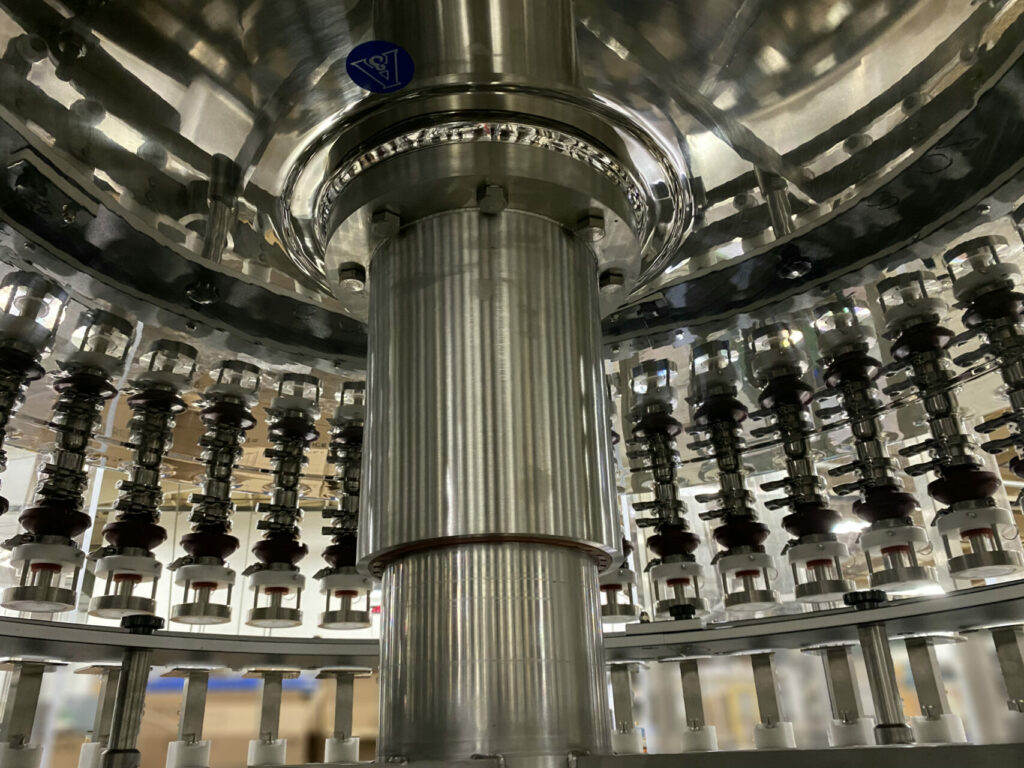 Using the basic principles of gravity, containers fill to a specific level with no electronic controls.  Containers are raised to the filling valves, where they are positively sealed to the valve sleeves. As containers continue their upward travel, the valves open.  Once opened, it vents air in the container to the fill bowl and product flow begins. Once product levels in the container reach the bottom of the valve sleeve, the valve's air vent is blocked and the product flow stops.  Fill level is simply adjusted by adding or removing spacers from the valve sleeve. Since containers seal with the filling valves during the filling process, it vents any foam generated back to the fill bowl rather than escape out the top of the container.
Gravity filling systems are fast, accurate, reliable, and affordable with very low annual operating costs.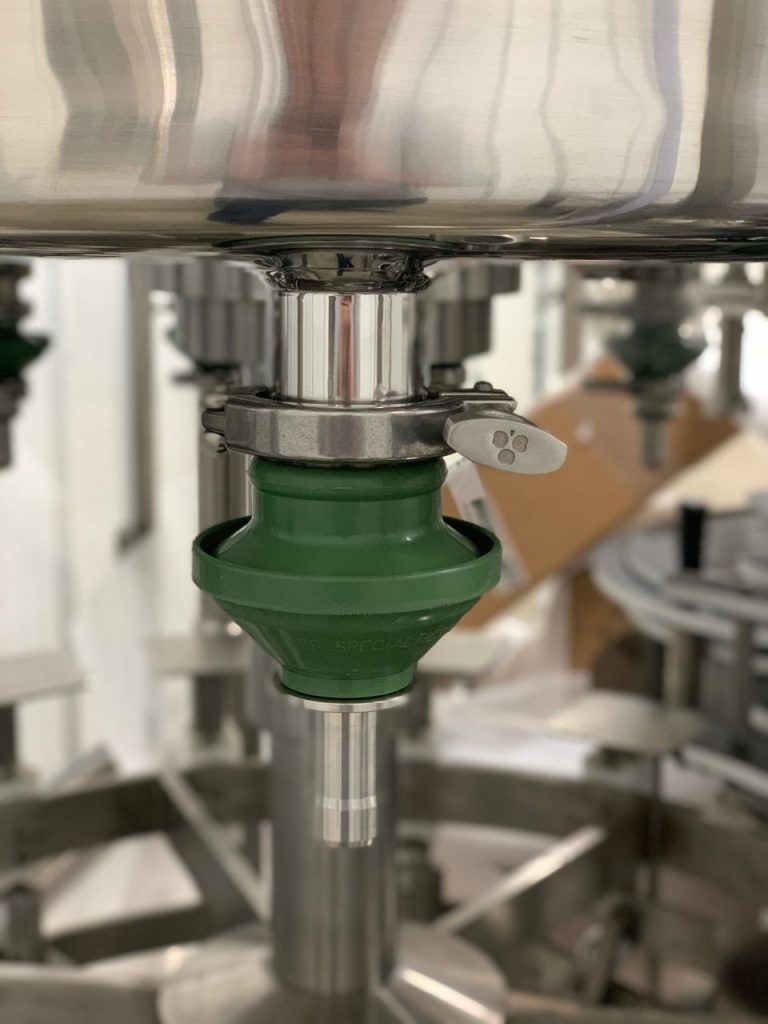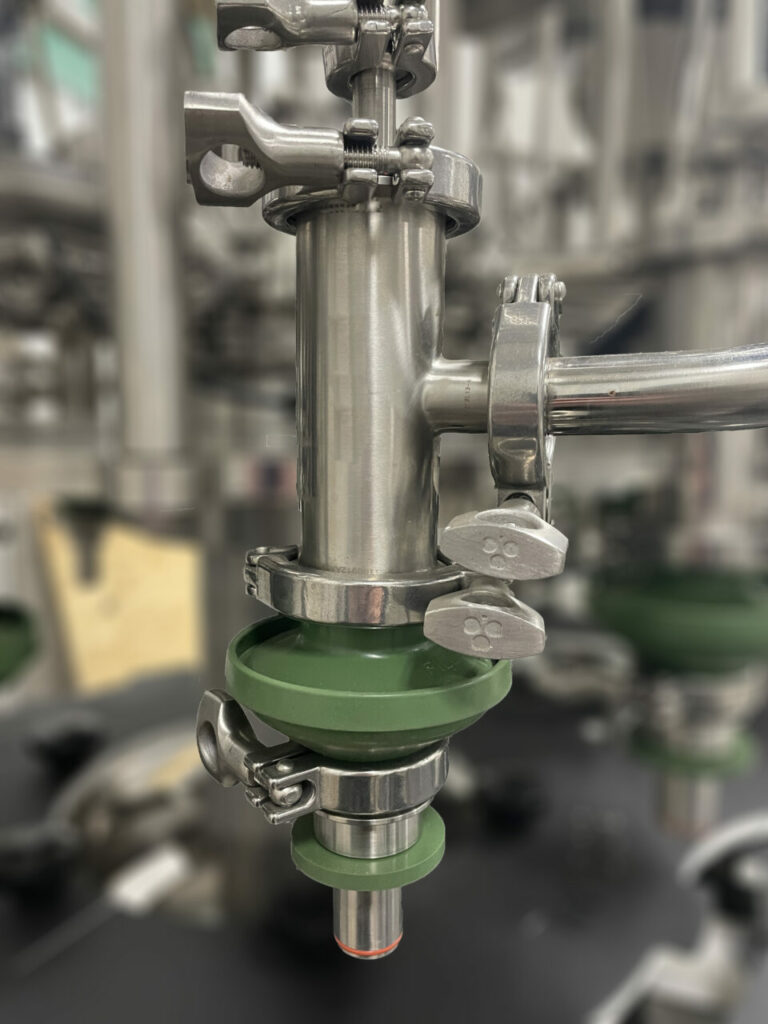 Similar to gravity filling systems, a pressure filler will also make a positive seal between the filling valve and the container, filling the container to a desired fill level for ideal product display. This system adds a pressure element to the formula, aiding in filling viscous products. Using a specifically designed pump the product is not agitated or broken down during the fill process.
Pressure gravity filling systems can handle more viscous products, can be faster in speed, equally efficient, with low annual operating costs.
Using a flow meter, containers are filled to a specified volume using mass or electromagnetic meters, with the highest accuracy in the industry. While utilizing a pump to maintain product pressure, communication between the flow meter and control valve is continuous, the flow meter will adapt to any fluctuation in the valve to achieve maximum accuracy. Without the need for a positive seal on the container. Containers remain on the same plane for maximum control.
Mass-flow systems are fast, most efficient, and eliminate product waste. While these systems are highest in cost, the offset in product savings due to increased fill accuracy will quickly provide a return on investment.